Value and growth are two famous ways of making money on the stock market. The former involves trying to find a stock which is trading below its intrinsic value as a result of market pessimism towards it and selling the company's stock when the market realises things aren't as bad as people think and the stock rallies. This investment style was formed by Benjamin Graham, one of the first people to apply a systematic approach to investing in shares, and later popularised by Warren Buffett.
Growth investing by contrast is about finding businesses that are expanding rapidly, purchasing them on high multiples and profiting from the business's stellar performance. The drawback of this investing style is that everyone likes growth companies, which means that they trade at high PE ratios and high revenue multiples. If their growth numbers disappoint the market, you can expect the companies to sell off heavily – much more than value companies. The following case study on Nearmap, a growth stock whose stock declined by 40% after announcing 45% revenue growth is a case in point.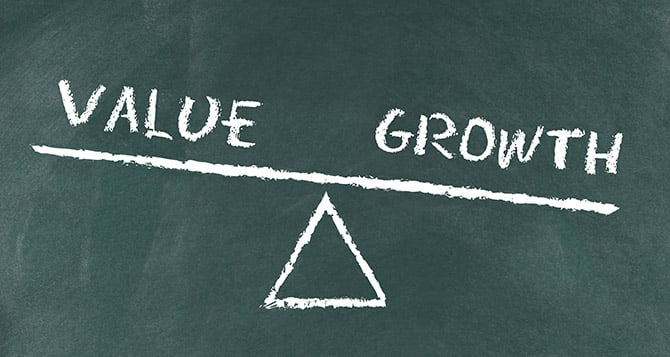 Growth Case Study: Nearmap (ASX: NEA)
Nearmap's share price almost tripled over the first half of 2019, hitting a high of $4.29 before selling off more than 40% in the subsequent period. Positive sentiment towards the company at the start of the year, backed by growth in the Australian business coming in above expectations, supported the rally. The market moved from a sum of parts valuation, where the US business was priced on a revenue multiple and the rest of the business was priced on an EBITDA multiple, to the whole business being valued on a revenue multiple. By agreeing to pay a certain multiple of revenue for the stock, investors are taking an educated bet on future profit margins, which they will generally only do for early stage businesses with particularly attractive growth opportunities.
The company specialises in mapping, aerial imaging and location data. The company takes detailed imagery of houses using satellites from space and will provide the most accurate data in the market. These precise measurements, for things like how high the roof of a house is, are particularly valuable for end users. A company installing solar panels can know what sized ladders to bring and send a high-quality rendering of how the end product will look to the property owner, without ever needing to visit the site prior to a quote being approved. The value this adds to clients explains the company's growth, market dominance and ability to gain high market share.
What is particularly appealing about Nearmap is the prospect of monopoly pricing power. It's main competitor, Eagleview, provides a pay-per-report subscription model, instead of the more profitable SAAS model that Nearmap employs. The company has penetrated less than 1% of it's estimated addressable market in the US, explaining the market's excitement around the company.
Nearmap revenue growth (Source: Nearmap)
The big concern for Nearmap however is the valuation. The company trades at 16x FY19 Revenue, but this falls to under 10x revenue if guidance for an earnings beat materialises. While the market has been happy with the way the company has been executing its growth strategy, their loss was far bigger than consensus estimates. This caused fear within the market around further delays to monetisation of their US client base, which adds to the cold market reaction towards their preliminary report. While the 81% rise in operating cash flow is not to be sneezed at, the market is pricing the company on very high multiples. This means that it needed to continue to deliver record results or see a share price correction, as investors who bought on high expectations sell out. The 40% correction was a painful lesson for investors who paid too much for this growth stock at the top.
What Exactly is Value Investing
Many investors define value within the constraints of a highly simplified version of Graham's vision. They think of value in terms of low PE ratios, which makes it simple to analyse their performance relative to the market. The idea behind this is that businesses trade on low multiples because they are underappreciated by the market, and thus present a perfect fit for the portfolio of a value investor.
The flaw with this thinking is that stocks that trade on high PE ratios can still represent great value investment opportunities. A hypothetical business trading at 25x earnings, growing profits at 50% a year and guaranteed to do this for the next 10 years because of a sustainable competitive moat would represent a brilliant value investment opportunity. At the end of the period, the company would be generating over 50 times more earnings than it did at the start of the period and could conceivably trade at a similar multiple, meaning that intrinsic value will be many multiples of the current share price. Situations similar to this one, though rarely quite as attractive, appear in the market and appeal to value and growth investors alike.
It is for this reason that Warren Buffett said, "value and growth are connected at the hip". The world's most successful value investor is happy to buy growth companies, provided that they trade at the right price. He recently purchased shares in Amazon, a company trading at almost 100x earnings, so he definitely follows the advice he gives others. Buffett also cautioned "it's far better to buy a wonderful company at a fair price than a fair company at a wonderful price", a strong message to value investors not to just buy a business because it looks cheap on a stock screen.
Nevertheless, since a value investor's strategy is centred around buying businesses that the market does not appreciate, it is more likely that those companies will trade on low multiples. While this often gives value investors a bias towards companies that trade on low multiples, it does not make value investing synonymous with buying the lowest decile of stocks by PE ratios, or some other similar quantitative screen. Both Graham and Buffett, the two most famous value investors in the world, emphasise understanding the business and the firm's management team before making an investment decision.
How are Value and Growth Investors Tracking ?

Performance of value and growth stocks (Source: St Louis Fed)
While quantitative factors such as low multiples do not define a value strategy, indexes based on quantitative factors do provide some guide as to how the different asset classes are performing. In the US, value outperformed massively after the dot com bubble burst and continued to perform up to the GFC. After that, growth companies took the limelight and have been outperforming ever since, eroding almost all of the outperformance value stocks have built up since the 1980s.
The reason value outperformed so much after the dot com bubble is that growth stocks got a bad name after the recovery. As with the army saying, "generals are always fighting the last war", investors avoided growth stocks in the next cycle because they got burnt in the last cycle. This created an opportunity for investors who bought into growth stocks to outperform.
One occasion where high multiple businesses, particularly those that are pre-revenue, underperform is during recessions. Companies that trade on elevated multiples are often a worthwhile proxy for the level of optimism in the market. This is because those businesses are priced on future growth expectations, and the market prices future growth more optimistically in a booming market than a market in a correction. Additionally, companies that are not profitable and don't generate sales need to consistently raise capital to stay afloat. If their valuations decline 75% in a recession, these equity raises substantially dilute existing shareholders, which helps explain why the market avoids such businesses when times are tough.
How does Buffett Balance Value and Growth?
Buffett balances value and growth by investing in quality businesses. This investment style combines elements of the traditional value investing popularised by Graham with trying to find businesses with moderate levels of growth that are sustainable over very long time periods.
This investment style can also be applied when searching for companies that have strong dividends. Companies with high returns on equity, sustainable competitive moats and earnings that can grow moderately but consistently over the long term have a better chance of having a safe, growing dividend yield. On HALO, our portfolio management and analytics tool, we have a monitor designed to identify companies with a quality yield. This helps identify companies which will not only provide you with a stable income stream, but also one that grows over time.
Given that the average Australian house cost well under a thousand pounds a century ago, it is imperative to make sure your income keeps up with inflation. Many dividend investors however think that it is fine for a company to now grow its dividends at all, and some even unquestioningly live with declines in dividend income that go on for years. We don't, which is why our quality yield monitor will only return companies that have growing dividends.
It is also important however that if you are investing for yield, the company you are investing in has dividends which are better than average. While we do recommend keeping an open eye to global opportunities, the Australian market does have higher average dividends than most other global exchanges, primarily due to the tax advantages of paying out profits in the form of dividends. We ensure that all the dividend stocks we recommend have a yield of over 5%, which is 25% above the average for the index. While Australia is a dividend investor's paradise, you still want to be doing better than average in terms of the income you will get today.
Since the monitor is designed by a top performing fund manager who has seen a few financial crises, it excludes any companies with a debt to equity ratio above 30%. This automatically rules out the big banks and has been included because companies with high levels of debt often go bust in recessions, leading to permanent loss of capital. Anyone who has been in the markets a while can tell you that permanent loss of capital is a much bigger problem than price risk or even dividend cuts, because the entire investment is lost forever. This is why we make sure that we focus on low debt companies; when well-managed, these businesses are unlikely to go bankrupt and are more likely to be able to maintain dividend payouts.
Dividend cuts often come at the worst times (Source: Standard and Poor)
Another factor we consider is the return of equity of the business. Many investors turn a blind eye to this metric, losing large sums of hard-earned money in the process. Return on equity is the profit of the company divided by the amount of money the business invested to get those returns. This is often very different to the market capitalisation of the business and represents the efficiency by which management gets returns on the cash invested.
This is important because, if is too low, either management is inefficient at making money, or the business operates in a low-quality industry. While there are exceptions to this rule, both these factors make dividends more unstable and increase the chance of a dividend cut. The problem with dividend cuts is that you often take a capital loss by moving the money elsewhere, which is why we make sure that all companies we invest in have a return of equity that is over 10%. This is a good indicator that the business is of a reasonable overall quality.
The last part of our monitor screens out businesses with a market capitalisation of less than a billion dollars. While not essential, it gives us businesses that investors are more likely to be aware of, as well as ones that are more liquid.
Macrovue
Typical issues which Aussie investors have with investing offshore include a more limited knowledge of companies outside, sky high brokerage costs at the major brokers and not knowing where to start. We side-step these issues through developing a platform called Macrovue, where a top performing fund manager identifies attractive international investment opportunities for us to look at. We pay $15 a trade for brokerage and have a clear direction on which economic trends we are investing in. As one of the only platforms offering managed portfolios without performance fees, it's worth looking at a couple of the themes we are looking at. The portfolios each have several stocks that investors can pick and choose if they wish:
Warren Buffett Top 10 (11.21% LTM): While the Oracle of Omaha needs no introduction, the $400k price tag of one of his class A shares prices many investors out of the company. To address this issue, we created a portfolio tracking his top 10 holdings, allowing you to instant access to the wisdom powering the 20% average returns for 60 years that Buffett delivered to his investors.
Luxury goods (+4.82% LTM): Luxury goods producers have high profit margins and sticky customer bases, making them excellent long-term investments. They are particularly well positioned to take advantage of growth in China, given the high levels of luxury goods expenditure amongst the nation's booming middle and upper class. Many of the companies in this view have significant family ownership stakes, including Hermes and LVMH, protecting them from short term biases in decision making.
5G Wireless Technology (32.65% LTM): 5G technology is the driving force enabling most of the game changing technologies over the next decade, from autonomous cars to smart homes. With most of the US and Europe poised to roll out 5G technology over the next few years, companies exposed to this trend are expected to see massive revenue growth.
---
Disclaimer:
This article has been prepared by the Australian Stock Report Pty Ltd (AFSL: 301 682. ABN: 94 106 863 978)
("ASR"). ASR is part of Amalgamated Australian Investment Group Limited (AAIG) (ABN: 81 140 208 288 Level 13, 130 Pitt Street, Sydney NSW 2000).
This article is provided for informational purpose only and does not purport to contain all matters relevant to any particular investment or financial instrument. Any market commentary in this communication is not intended to constitute "research" as defined by applicable regulations. Whilst information published on or accessed via this website is believed to be reliable, as far as permitted by law we make no representations as to its ongoing availability, accuracy or completeness. Any quotes or prices used herein are current at the time of preparation. This document and its contents are proprietary information and products of our firm and may not be reproduced or otherwise disseminated in whole or in part without our written consent unless required to by judicial or administrative proceeding. The ultimate decision to proceed with any transaction rests solely with you. We are not acting as your advisor in relation to any information contained herein. Any projections are estimates only and may not be realised in the future.
ASR has no position in any of the stocks mentioned.